A first of its kind Web platform built with the most extensive set of publicly available disaggregated energy data in the United States
The California Center for Sustainable Communities (CCSC)'s mission at UCLAs is to create actionable science that improves urban systems' sustainability.
The research group has compiled the largest publicly available energy dataset in the United States of America to achieve this. The vast dataset contains spatially aggregated energy consumption statistics with an annual resolution for most neighborhoods, cities, and counties in Southern California.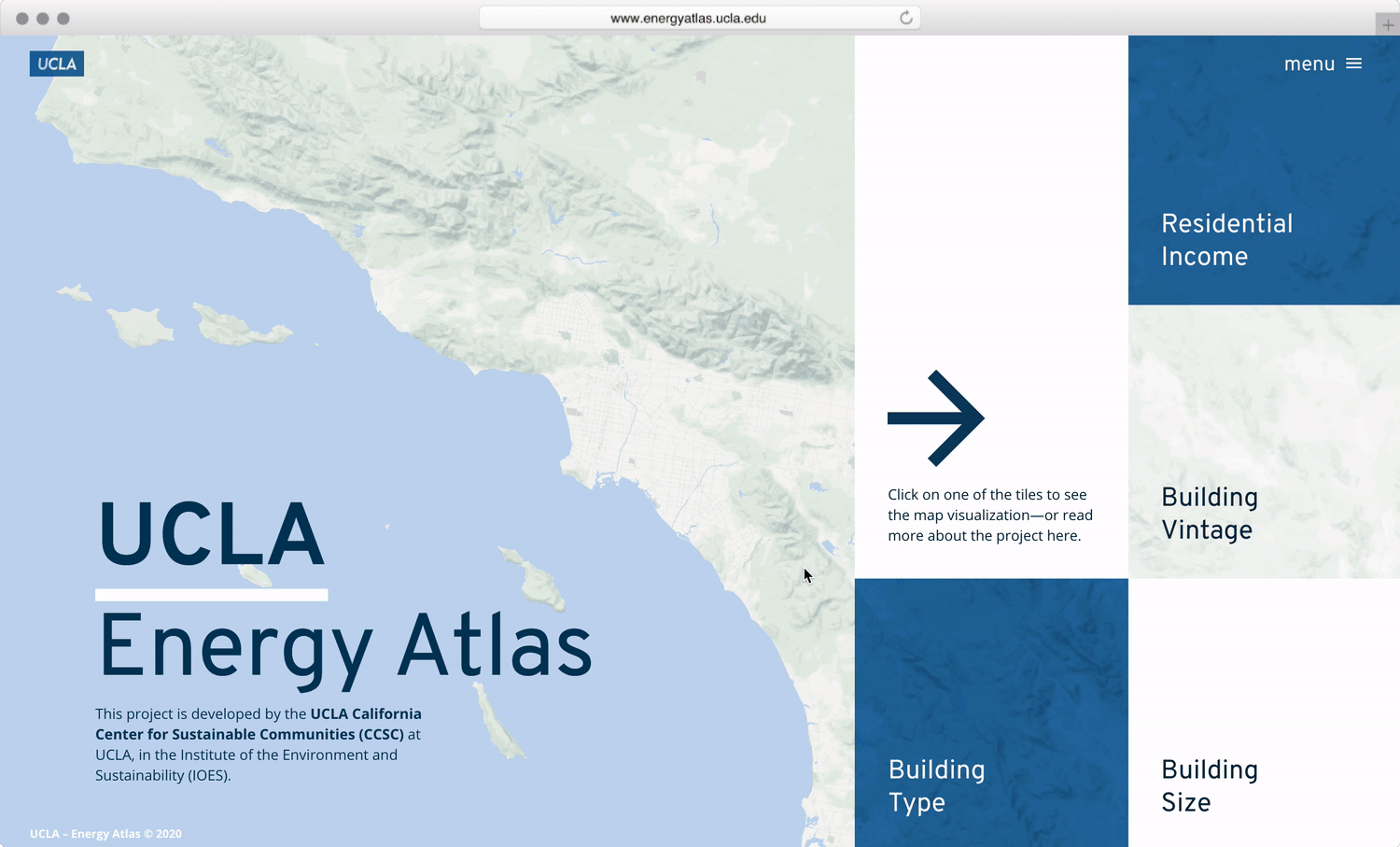 The landing page offers a direct and straightforward introduction to the aim and use of the application.
The CCSC approached us to design and realize the LA Energy Atlas as a platform that can meet the needs of different users. On the one hand, it serves to advance the research itself. On the other hand, it informs Californians and anyone else interested in the ongoing energy transitions. Consequently, the application offers an intuitive and easy introduction even for users who are not familiar with the topic.
Interactive maps visualize districts, cities, and municipalities' energy consumption down to a detailed level of buildings, which can be filtered by type, age, and greenhouse gas emissions. Thus users can explore the data using different consumption types.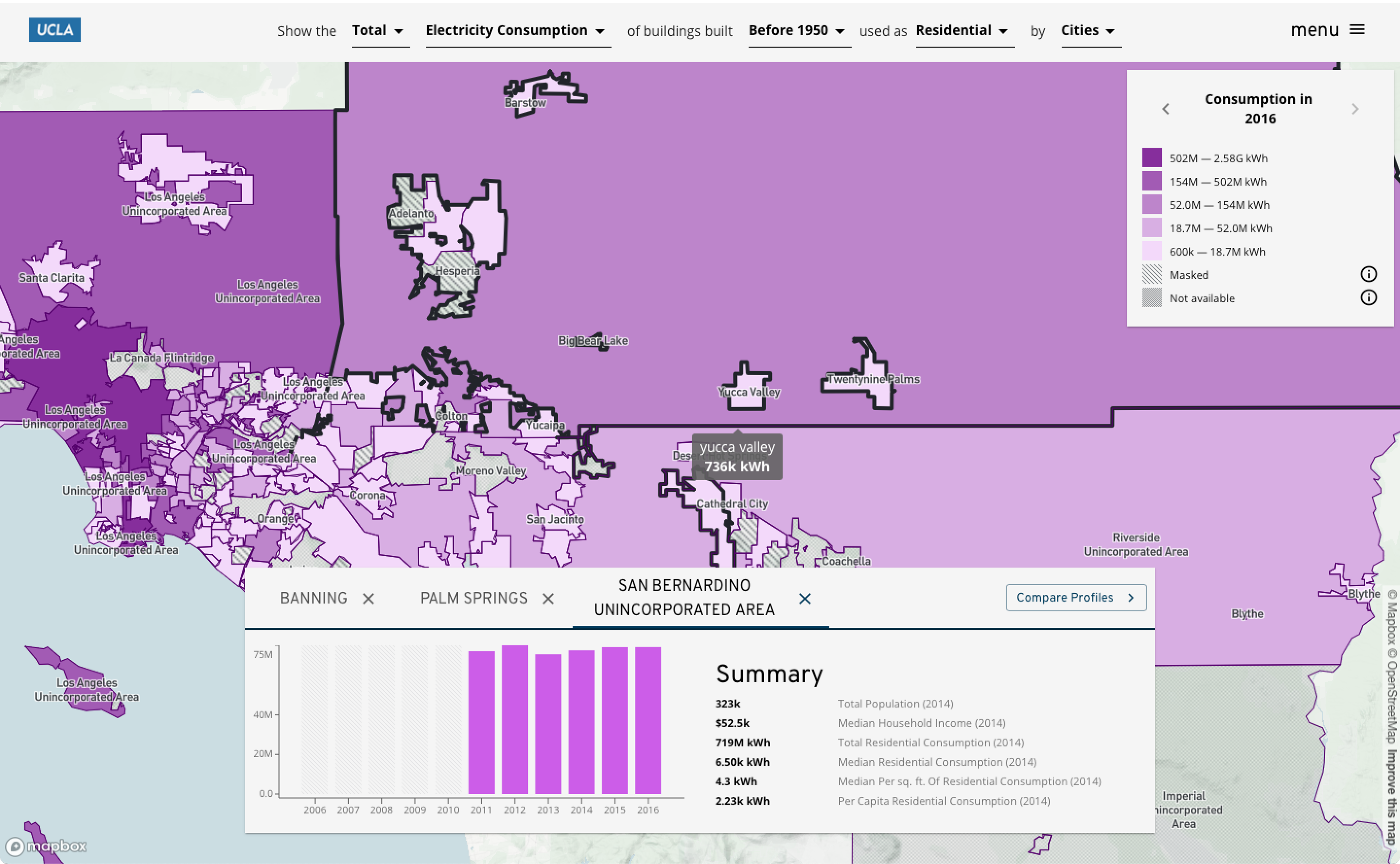 This map view summarises the energy consumption of buildings categorised as residential for the city of San Bernardino.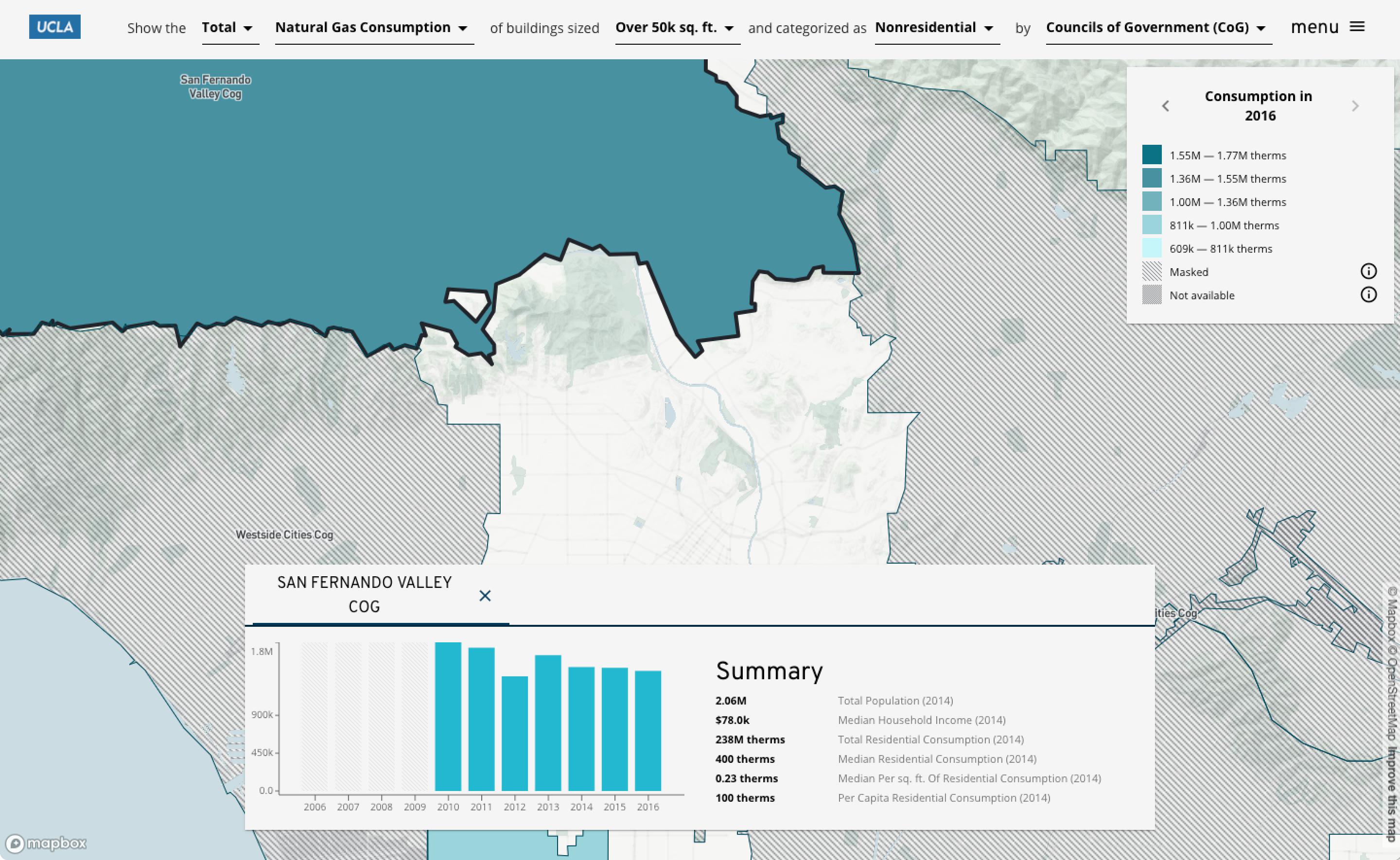 Summarized energy consumption of buildings categorized as nonresidential for San Fernando Valley.
The platform offers the possibility to compare the energy profiles of multiple cities and neighborhoods. Individual profiles support detailed views for each type of consumption, including a temporal sequence of the data.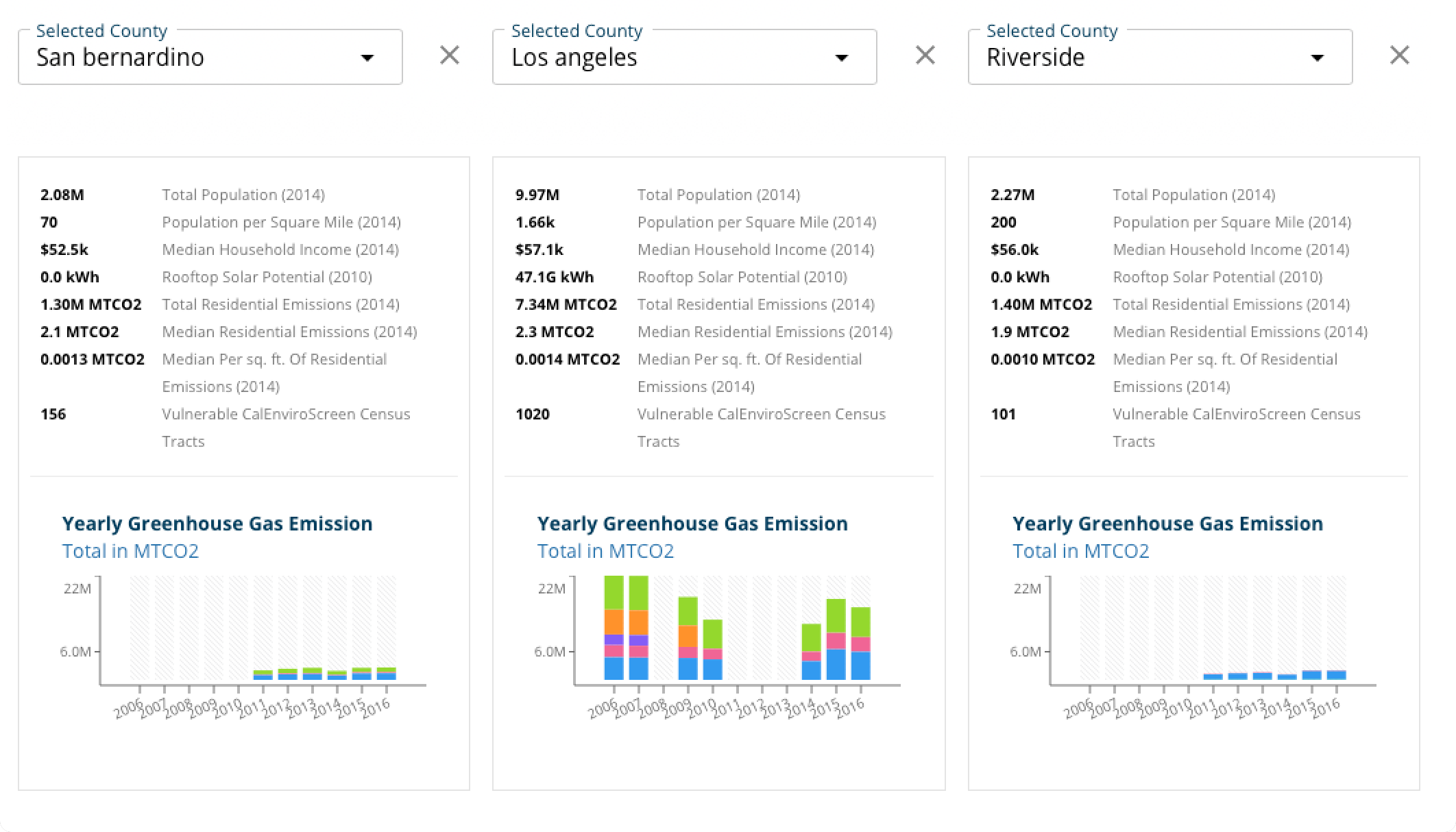 The table view allows to compare the energy consumption of i.e. residential and institutional building types and cities.
To support the CCSC in its communication activities, we have developed a CMS that enables the easy creation and embedding of charts and other media into their editorial work. In this way, data stories and studies can be written and made available to the public.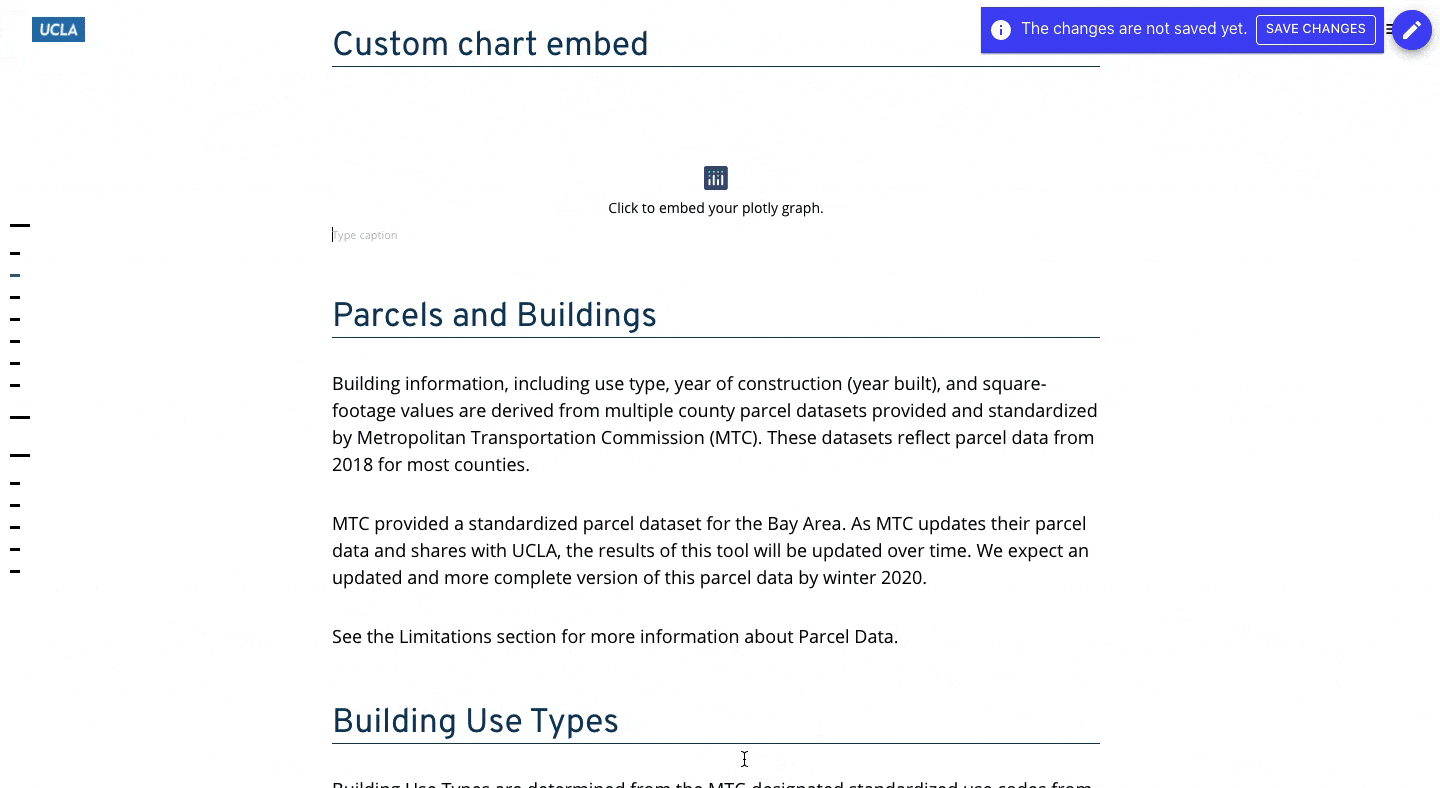 ADA our custom CMS allows for different types of block content such as text, media and charts a.o.
Directed by: Dr. Stephanie Pincetl
Project team: Hannah Gustafson, Lauren Strug. Formerly: Zoe Elizabeth Rob Graham, Kristen Holdsworth, Sinnott Murphy, Jeff Wolf, Thuy Vu
Visit Online Version