Understanding the relation of environmental topics in the chain of cause and effect
The German Environment Agency Umweltbundesamt (UBA) is Germany's main environmental protection agency. Its task is to inform the public concerning all matters of environmental topics. The agency gathers data concerning the state of the environment, investigates interrelationships, and makes projections providing federal bodies such as the Ministry of the Environment with policy advice.

Air quality in the the iOS weather app. Data provided by the German Environment Agency.
The UBA also provides widespread data sets about waste avoidance, climate protection, pesticide approvals, and air quality.
Handling these numerous intertwined and relevant topics, one can easily imagine the vast data sets and reports piling up, making it incredibly difficult to provide an overview or a possible correlation between all the documents. The challenge is to find topics that are not obviously related but somehow connected. The UBA approached us to create a tool that allows exploring new content and topical relations, besides searching existing ones.
We created an information interface based on automated text analysis. The algorithm crawls more than 10,000 unstructured text contents such as articles, press releases, and data-sheets. It extracts each article's topics and uses the accumulated relations to create a chain of cause and effect.

The most relevant terms are displayed for each category. Both terms and categories can be used for filtering.
The documents' hierarchical information architecture shows the most relevant topics, categories, terms, and interconnections.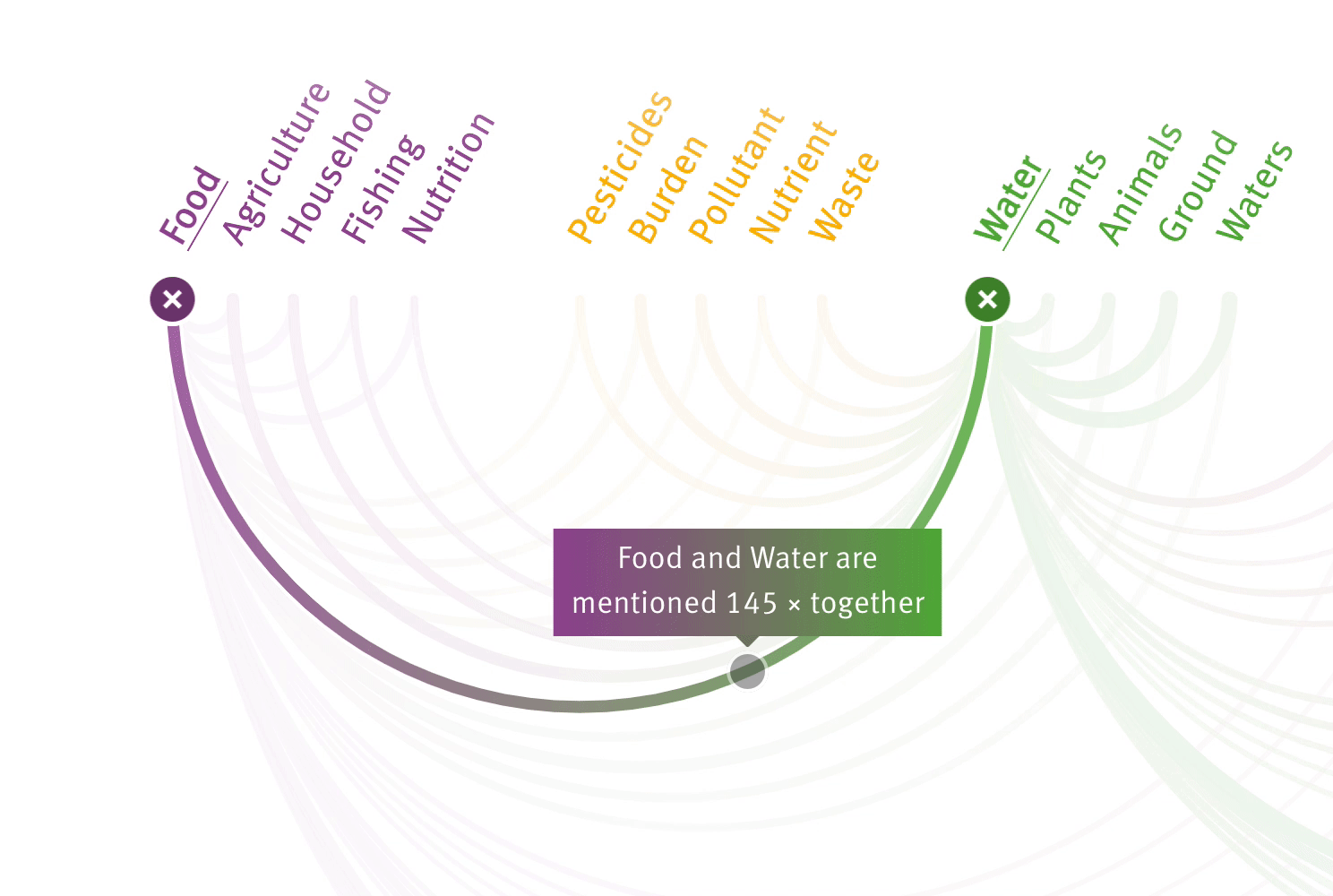 Explicitly specifying the interrelationships ensures transparency and comprehensibility.
With this knowledge a holistic picture can be drawn, providing tremendous insight. Further, our solution delivered easy access to environmental reporting complexities for all audiences. Connections between causes, measures, and impacts are reflected through an interactive data visualization as a key to grasping environmental topics and their interconnections in the chain of cause and effect.
Terms, as well as their relation to each other can be searched. The auto-suggestion indicates known terms or offers alternatives.
The visualization fosters serendipity and discovery by interactively visualizing connections. Depending on the search term, the most relevant content is shown and can be further explored, i.e., by selecting terms or categories.
The information interface on the main page of the German Environment Agency
Mapping Environmental Correlations. A collaboration on a joint research project with Delphi IMM and the University of Applied Science Potsdam.